A8设计中心:理想的设计图书馆是怎样的?可否推荐一个您理想的图书馆给A8设计中心?这个图书馆打动到您的地方是哪里?
王翔:我理想的设计图书馆应该是给予营养的地方,让心智回归的林微尼,是让人能思考、碰撞和实践的地方。理想的图书馆光线充足,因为安静而带来的所有人对自己行为的克制;功能性的空间,简洁而富有张力;关注细节和微小的需求,比如灯光、标示甚至是茶水杯的摆放;创意地使用材料,提供丰富的触觉体验。有丰富的内容组织,相关和不直接相关的书籍和信息能通过最时尚的链接组织起来,让人产生好奇感和求知欲 ;海量的信息储藏,不光阅读,还有涉及触感和听觉。有很多交流的空间,大的小的,甚至搭配论坛,可以偶遇不同行业但志趣相投的人 ;具备历史和成果的展陈,让曾经存在的创意和技术能够传递和被再次加工。场所营造有着克制而中性的表达,让新的创意和新媒体有充足的制作背景空间。这是一个"去构成"的空间,不是金字塔形的空间结构(主次而泾渭分明),这是一个驳杂态(HETEROGENEITY)多样空间的 :倡导平等、激发相遇和交流。
在巴黎核心的四区,一九六九年由总统蓬比杜发起的总统工程的设计由两个其实名不见经传年轻人摘得桂冠 :佐纶·皮亚洛和理查德·罗杰斯。蓬比杜中心的设计有一种机械的美,但是在当时是巴黎人还无法理解的前卫。当蓬比杜中心巨大的金属桁架在玛黑区狭窄的街道上运输的时候,所有学设计的和旁边的市民都出来观看这个简洁到除了逻辑就是形态的建筑的诞生。蓬比杜中心内部有一个康定斯基图书馆,是法国现代视觉艺术的图书馆和资料馆。从2002年开始,有超过五千位艺术家、设计师和建筑师的二十万件作品被收藏,包括作品集、日记、照片、音频资料、视频等。康定斯基图书馆是二十世纪全球最大的现代艺术藏馆之一。
图书馆的空间实际上是异常简洁的,我们还可以在内部看到巨大的金属桁架和几乎完全规律性的照明、吸音和空调设备。没有内部的柱子,所有的结构感都被解放了。空间的层高很高,侧面的落地玻璃可以看到巴黎的街景,安静但是动态的。康定斯基图书馆有异常丰富的馆藏,交通方便而且有海量的阅读空间,然而最让我喜欢的是其与蓬比杜中心活动的互动产生的化学变化。蓬比杜中心有现代艺术博物馆、工业设计创作中心、展览、剧场、论坛、极具创意的书店、一览巴黎景观的咖啡和舒适的城市广场(甚至有人在此野餐),康定斯基图书馆是这个所有活动的精神归属,可以让我们轻易的接触或深入了解全球最当代的艺术思潮,偶遇志同道合者。这是一扇窗户,是城市的艺术高地,更是所有游览的人内心向外的渠道。
My ideal design library should be a place to give nourishment, let the mind return to peaceful, and be a place where people can think, collide and practice. The ideal library is well-lit, and everyone's restraint on their behavior is brought about by quietness;The functional space is simple and full of tension;Pay attention to details and small needs, such as lighting, signs and even the placement of tea cups;Use materials creatively to provide a rich tactile experience. There is a rich content organization, and related and indirectly related books and information can be organized through the most fashionable links, which creates a sense of curiosity and thirst for knowledge;A huge amount of information storage, not only reading, but also touch and hearing. There are many spaces for communication, large and small, and even with forums, so you can meet like-minded people from different industries;The exhibition with history and achievements allows the original ideas and technologies to be transmitted and processed again. Place creation has a restrained and neutral expression, allowing new creativity and new media to have sufficient production background space. This is a "de-constructed" space, not a pyramidal spatial structure (primary and secondary but distinct). This is a HETEROGENEITY diverse space: advocating equality, stimulating encounters and exchanges.
In the 4th arrondissement of Paris, the design of the Presidential Project initiated by President Pompidou in 1969 was won by two little-known young people: Renzo Piano and Richard George Rogers. The Pompidou Centre's design has a mechanical beauty, but at the time it was avant-garde that the Parisians could not understand. When the huge metal truss of the Pompidou Center was transported on the narrow streets of Marais, all the people who studied design and citizens next to it came out to watch the birth of this concise building except for logic. There is a BIBLIOTHÈQUE KANDINSKY inside the Pompidou Center, which is a library and archive of French modern visual arts. Since 2002, 200,000 works of more than 5,000 artists, designers and architects have been collected, including portfolios, diaries, photos, audio materials, videos, etc. The BIBLIOTHÈQUE KANDINSKY is one of the world's largest collections of modern art in the 20th century.
The space of the library is actually very concise. We can also see huge metal trusses and almost regular lighting, sound absorption and air conditioning equipment inside. Without internal pillars, all the sense of structure is liberated. The floor height of the space is very high, and the floor-to-ceiling glass on the side can see the street scene of Paris, which is quiet but dynamic. The BIBLIOTHÈQUE KANDINSKY has an unusually rich collection, convenient transportation and a large amount of reading space, but what I like most is the chemical change that it interacts with the activities of the Pompidou Center. The Pompidou Center has a modern art museum, an industrial design creation center, exhibitions, theaters, forums, creative bookstores, coffee with a panoramic view of Paris, and comfortable city squares (even people have a picnic here). BIBLIOTHÈQUE KANDINSKY is The spiritual belonging of all these activities that allows us to easily get in touch with or deeply understand the world's most contemporary artistic trends and meet like-minded people by chance. This is a window, the city's artistic heights, and a channel for all visitors.
关于康定斯基图书馆
About BIBLIOTHÈQUE KANDINSKY
建筑师:伦佐·皮亚诺、理查德·罗杰斯
地点:法国,巴黎
类型:文献和研究中心
项目年份:1977
Architects:Renzo Piano、Richard Rogers
Location:Paris,France
Type: Literature and Research Center
Project Year: 1977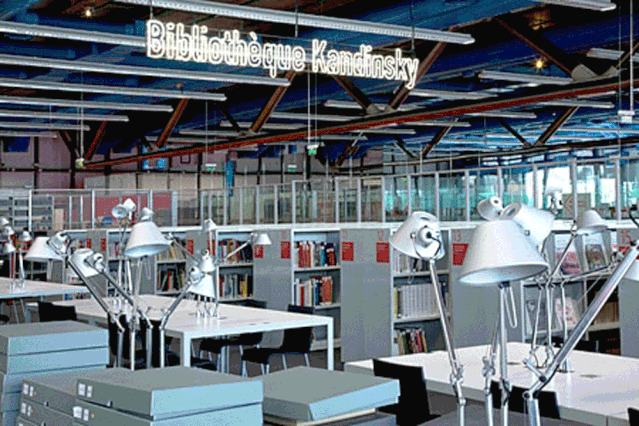 康定斯基图书馆是法国现代艺术博物馆 – 蓬皮杜艺术中心的文献和研究中心,作为公共资讯图书馆的一部分位于蓬皮杜艺术中心3楼。图书馆收藏了大量有关20世纪和21世纪艺术的文件档案和藏品,供研究人员、艺术界专业人士、艺术家等专业读者使用。
220多个文档档案馆和馆藏让它成为了艺术界的中心,其多样性包含:艺术;建筑,设计和工程;艺术评论,理论,收藏和艺术界收藏;画廊,书店,出版社和艺术期刊;以及摄影;电影和录像制作;艺术机构。有超过18000种的珍贵书籍收藏,包括从20世纪记录的展览手册,建筑书籍和装饰艺术书籍;它是艺术家的个人图书馆,收集了从1960年代至今的照片册子和大量艺术家的作品集,以精选的一些书籍和标志性出版物为特色。此外,这里还有超过8000种普通、稀有或珍贵的期刊,展示了20世纪出版活动的多样性,还有一个大型数字图书馆。
The BIBLIOTHÈQUE KANDINSKY is the documentation and research centre of the Musée national d'art moderne – Centre de création industrielle, Centre Pompidou. It holds considerable document archives and collections on the art of the 20th and 21st centuries and places them at the disposal of a specialised audience of researchers, professionals in the art world, artists and their families.
More than 220 document archives and collections testify to the great diversity of protagonists in artistic circles (artists; architects, designers and engineers; art critics, theorists, collectors and personalities of the world of art; galleries, bookshops, publishing houses and artistic journals; photographers; film and video makers; art institutions). There are over 18,000 titles in the rare and precious books collection, including exhibition catalogues from the early 20th century, books on architecture and decorative arts, artists' personal libraries, books of photographs and a large collection of artists' books from the 1960s to the present day, featuring several book-objects and iconic publications. Then there are also over 8,000 titles of common, rare or precious periodicals illustrating the full diversity of publishing activities in the 20th century, as well as a large digital library.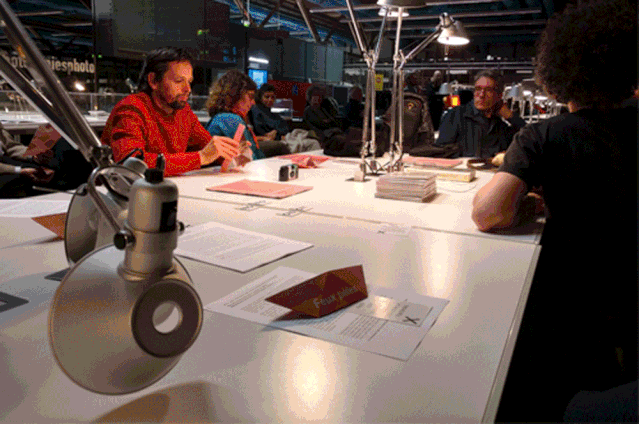 "我们想创造一个全民都能共享的场所(a place for all people),无论你年长或年轻,贫穷或富有,无关你的信仰或国籍。这应该是一个既拥有纽约时代广场那般活力,又拥有伦敦大英博物馆那般深厚文化底蕴的建筑。"—— 罗杰斯
康定斯基图书馆举办了大量的活动,主持和开辟对现代和当代艺术史的研究。通过在现代艺术博物馆内开展跨领域项目并进行跨学科的暑期学校活动来分享知识,该活动已成为艺术史研究的关键参与者。通过促进文献和珍贵遗物的收藏工作,它的研究项目提供了响应学术界日益增长的需求,将文献资源集中起来,形成共享的收藏和开展联合研究。
The BIBLIOTHÈQUE KANDINSKY takes part in a large number of programmes to host and develop research into the history of modern and contemporary art. By rolling out cross-cutting projects within the Musée national d'art moderne and inventing an interdisciplinary Summer School event for sharing knowledge, it has become a key player in research into the history of art. By facilitating work on the document and heritage collections it holds, its research projects provide a response to growing demand from the academic community for collective efforts grouping together documentary resources, forming shared collections and conducting joint research.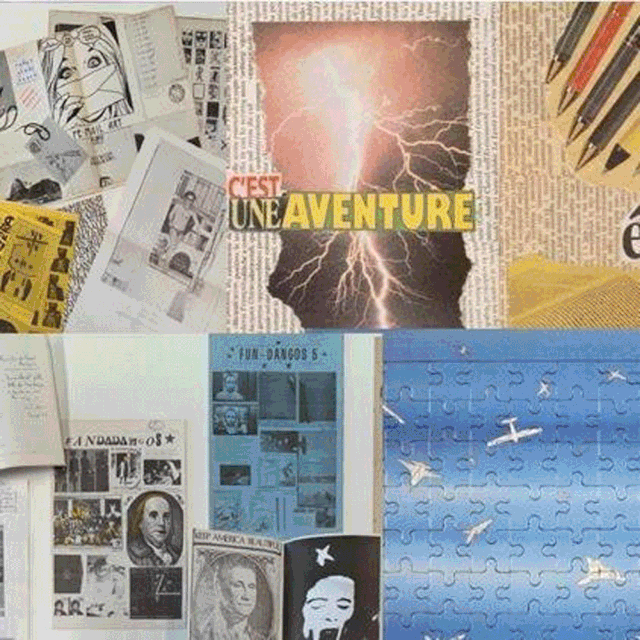 关于蓬皮杜艺术中心
About Centre Pompidou

蓬皮杜艺术中心是坐落于法国首都巴黎拉丁区北侧、塞纳河右岸的博堡大街的现代艺术博物馆,以现当代艺术的收藏与展示为主,拥有超过100,000件1905年至今创作的艺术作品,也是全球最大的两家现代艺术博物馆之一。收藏了来自亨利·马蒂斯、伊夫·克莱因、巴勃罗·毕加索、萨尔瓦多·达利、安迪·沃霍尔等艺术家的杰作。
蓬皮杜艺术中心分为工业创造中心、公共资讯图书馆、现代艺术馆、音乐声学协调与研究中心四大部分。整座建筑占地7500平方米,建筑面积共10万平方米,地上6层,主体建筑南北长168米,宽60米,高42米。
The CENTRE POMPIDOU is a museum of modern art located on the Right bank of the Seine on the Rue Beaubourg in the north of the Latin Quarter of Paris. It is one of the two largest museums of modern art in the world, with over 100,000 works of art created since 1905. The collection includes masterpieces by Henri Matisse, Yves Klein, Pablo Picasso, Salvador Dalí, Andy Warhol and other artists.
Centre Pompidou is divided into four parts: industrial creation center, Bibliothèquepublique d'information, Musée National d'Art Moderne, and Institut de Recherche et Coordination Acoustique/Musique. BIBLIOTHÈQUE KANDINSKY is located on its third floor. The entire building covers an area of 7,500 square meters, with a total construction area of 100,000 square meters, and 6 floors above the ground. The main building is 168 meters long from north to south, 60 meters wide and 42 meters high.
空间结构体系
Structural system of the space
整个蓬皮杜艺术中心的建筑除了外围使用28根柱子以作支撑外,内部没有一根立柱,甚至没有一面墙。在整个设计中,梁、柱、空间桁架、管线、暖通照明设备等都被漆上不同的颜色,毫不掩饰地暴露在空间中。蓝色的是空调设备,绿色的是给排水管道,黄色的是电气设施和管线。管道与设备用房的外移,解放了建筑的内部空间。
蓬皮杜艺术中心采用的是钢桁架梁柱结构,竖向线条在建筑物的东西两侧突出。结构工程师彼得·莱斯将这座建筑的尺度设定为结构构件的尺度,通过铸造构件和常规构件之间不寻常的结合,打破常规,创造出一种既平易近人又出其不意的建筑形象。
Except for the 28 pillars on the periphery, there is no column or even a wall inside the entire building. In the design, the beams, columns, space trusses, pipelines, and lighting equipment that are hidden in traditional buildings are all painted in different colors and exposed to the public without any disguise. The blue ones are air-conditioning equipment, the green ones are water supply and drainage pipes, and the yellow ones are electrical facilities and pipelines. The relocation of pipes and equipment rooms liberated the internal space of the building.
The overall building uses a steel truss beam-column structure, with prominent vertical lines on the east and west sides of the building. Structural engineer Peter Rice set the scale of this building to the scale of structural components, breaking the convention through the unusual combination of casting components and conventional components, creating an architectural image that is both approachable and unexpected.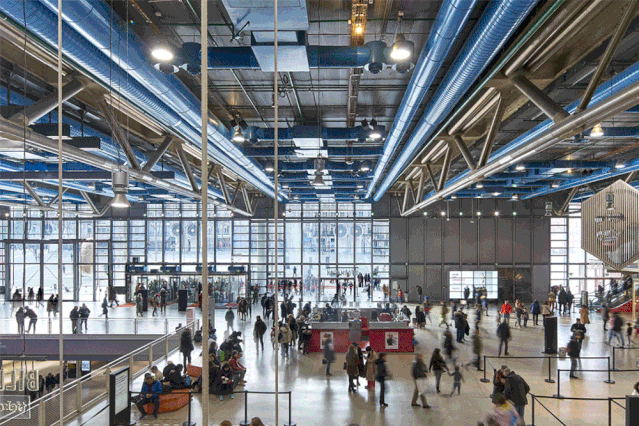 空间体验
Spatial experience
蓬皮杜艺术中心在地面层上有一个双重高度的空间,其中包含所有大型的公共区域。游客从地面层登上一个巨大的对角自动扶梯,在正面面对广场,随后到达外部走廊和观景台。这些人行道和自动扶梯旨在打造动态变化的立面。
At ground level the Centre Pompidou has a double-height space that contains all the large publicly-accessible areas. Visitors travel from the ground level up a giant diagonal escalator, on the facade facing the square, to external corridors and viewing platforms. These walkways and escalators are designed to create a dynamic ever-changing facade.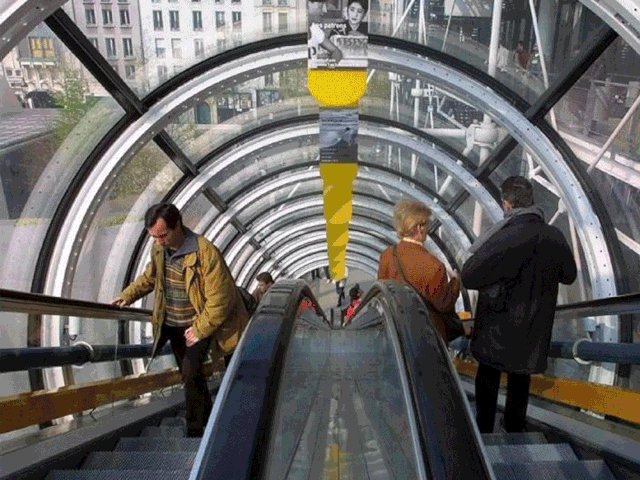 关于推荐人
About the Recommender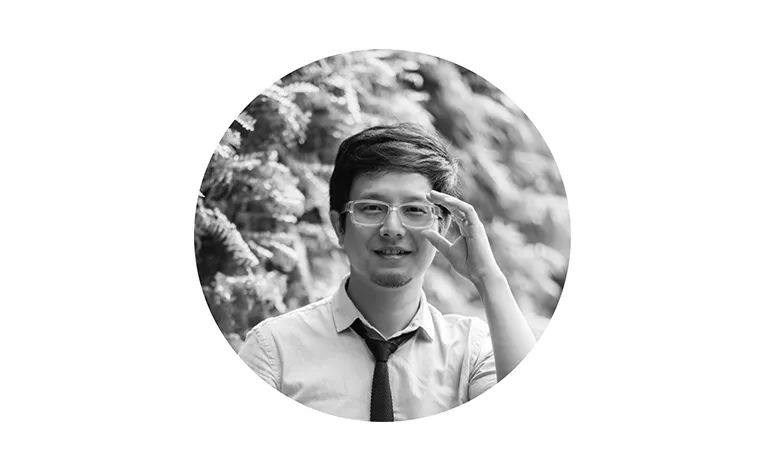 法国注册建筑师,天仝建筑创始人及主持建筑师。2002年赴法留学,07年於巴黎拉维莱特建筑学院取得研究生学位,同年获得法国政府认证建筑师资格DPLG。在巴黎执业期间,主持了巴黎北区体育综合体、克莱蒙费昂建筑学院、隆斯多媒体馆、南特火车站新区规划等重要城市设计和建筑设计项目。2012年,他与田文沐女士获得第十一届欧洲新锐建筑师奖(EUROPAN 11)亚军,成为首获欧洲新锐建筑师奖的华人。2015年回到中国,2017年成立天仝建筑(成都),涉猎城市设计、公共建筑、公共空间等多个设计领域。
French registered architect,Founder and host architect of TEKTONN ARCHITECTS. He went to France to study in 2002. In 2007, he obtained a postgraduate degree from the École nationale supérieure d'architecture de Paris-La Villette. In the same year, he obtained the French government certified architect qualification DPLG. During his career in Paris, he presided over the important urban design and architectural design projects such as Gymnasium and Sports Complexe, National School of Architecture of Clermont-Ferrand, the Lons Multimedia Pavilion, and the planning of the new district of Nantes Train Station. In 2012, he and Ms. Tian Wenmu won the Competition EUROPAN 11, becoming the first Chinese to win the European Emerging Architect Award. He returned to China in 2015 and established TEKTONN ARCHITECTS (Chengdu) in 2017, covering multiple design fields such as urban design, public buildings, and public spaces.