关于推荐人
About Recommender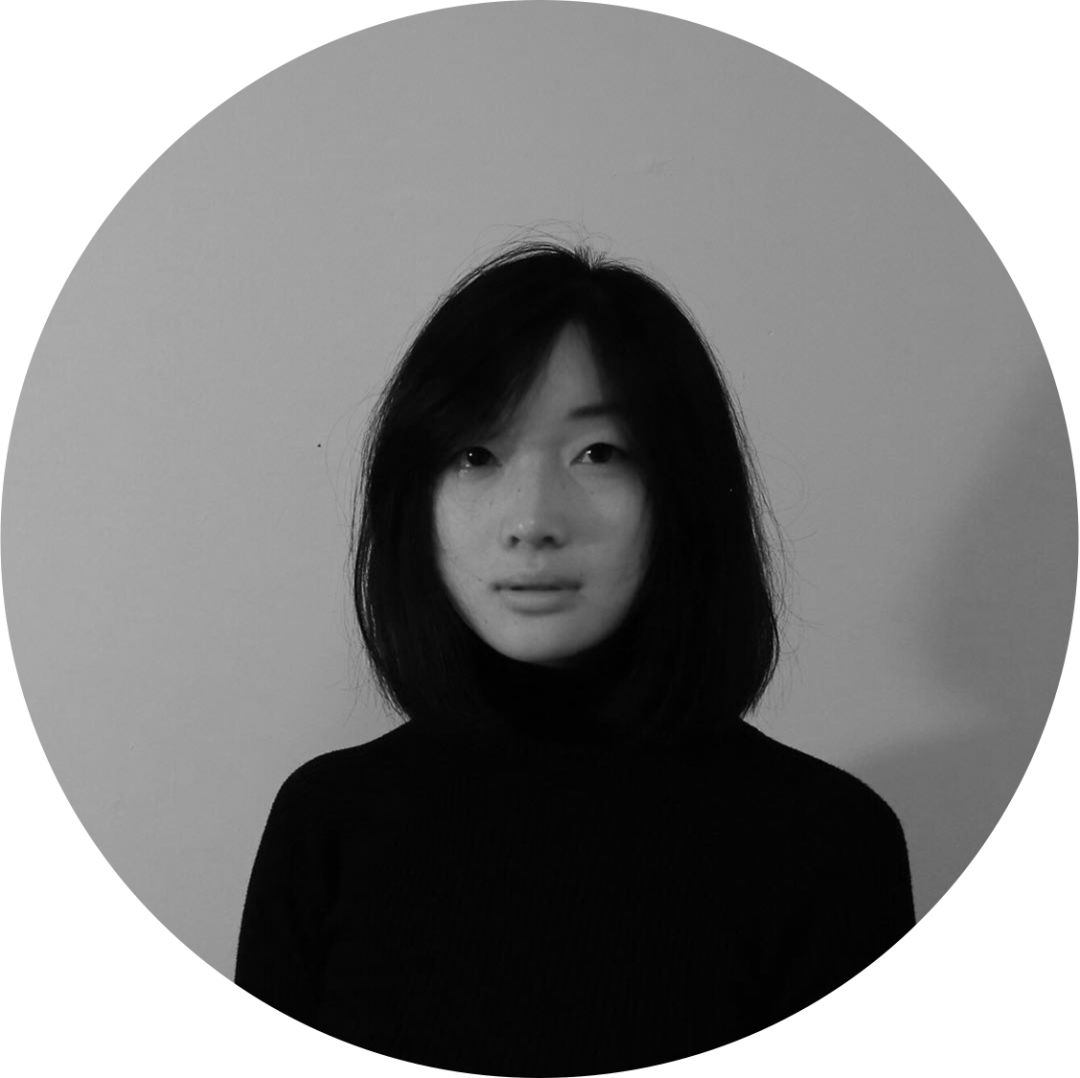 粟叶
Su Ye

厘亩建筑研究室主持建筑师
"厘" 精确地指光在真空中于 1/299792458 秒内运行的距离的十分之一。"亩" 模糊地指周长约为 240 步的一块正方形区域的面积。
厘亩建筑研究室将建筑视为不同尺度上的问题的研究,一城亦是一座建筑,一座建筑亦是一城。一份建筑设计委托是没有正确答案的,一块场地上能生长出各种的建筑形态,厘亩建筑也只是完成了它的其中一种可能性。带着研究性的思考出发,追随其地域性,希望表现每一块场地其原本的生命意义,厘亩建筑研究室将建筑视为与时空对话的工具,建筑承载着记忆与历史,探索这个时代建筑所能表达的,解释的,和解决的。
厘与亩之间恰是建筑师的交互思考,一份建筑作品常在精确与模糊,可度量与不可度量, 微观与宏观之间相互取舍与权衡产生。从 2020 年开始,每一个作品既是表达者也是记录者,建筑成为厘亩建筑认识世界的入口, 也是他们表达的出口。
"Centimetres" accurately refers to one-tenth of the distance that light travels in a vacuum in 1/299792458 seconds. "Acre" vaguely refers to the area of a square area with a circumference of about 240 steps.
Art_architecture Lab regards architecture as the study of problems at different scales. A city is also a building, and a building is also a city. There is no correct answer to an architectural design commission. A variety of architectural forms can grow on a site, and the Art_architecture building is only one of the possibilities to complete it. They start with research thinking and follow its regionality, hoping to express the original meaning of life in each site. Art_architecture Lab regards architecture as a tool for dialogue with time and space. Architecture carries memory and history. They are exploring what architecture in this era can express, explain, and solve.
The interaction between art and architecture is precisely the interactive thinking of architects. Architectural work is often precise and vague, measurable and unmeasurable, and the trade-offs and trade-offs between micro and macro. Starting in 2020, every work is both an expresser and a recorder. Architecture has become the entrance to the world and an outlet for our expression.
01
物质与记忆
亨利·柏格森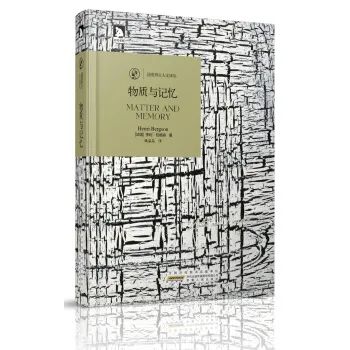 简介
Description
本书考察了纯粹记忆,并把以具体形式出现的知觉看作纯粹记忆和纯粹知觉的综合体,即思维和材料的综合体。文中延续了柏格森以往的议论式风格虽依旧有些晦涩,但对道理的深刻性也是丝毫没有任何影响。这部作品已被有国内版本,其重要性可见一斑。书中对于意识呈现的形象选择、形象认知、形象的存活、划分与固定一一进行了阐述。
This book examines pure memory, and regards perception in specific forms as a synthesis of pure memory and pure perception, that is, a synthesis of thinking and materials. The article continues Bergson's previous argumentative style, although it is still somewhat obscure, but it has no influence on the profoundness of the truth. This work has already been published in a domestic version, and its importance is evident. The book describes the image selection, image cognition, image survival, division and fixation of consciousness presentation one by one.
推荐理由
Reason for Recommendation
在我们的室内设计项目尤其是家装项目中,对不同材料所带来的感知的不同尤其在意。我们的知觉并不是从我们的身体到达其他实体;知觉首先存在于实体的集合之中,然后逐渐限制自身,把我们的身体作为一个中心。建筑师始终是创造且制造一个由丰富实体集合的空间的。这本书始终带我们用三种不同的方式去感知和创造建筑空间;感受(affection),知觉(perception),感觉(sensation)。这本书更像是一个在学校critic你设计的老师,不给出确定的设计方向,但永远逼迫你不断自我批评和思考。
In our interior design projects, especially home improvement projects, we are particularly concerned about the different perceptions of different materials. Our perception does not reach other entities from our body; perception first exists in the collection of entities, and then gradually restricts itself, taking our body as a center. Architects always create and create a space composed of rich entities. This book always takes us to perceive and create architectural space in three different ways; affection, perception, and sensation. This book is more like a teacher who criticizes your design at school. It does not give a definite design direction, but it will always force you to continue to criticize and think about yourself.
02
没有建筑师的建筑:简明非正统建筑导论
伯纳德·鲁道夫斯基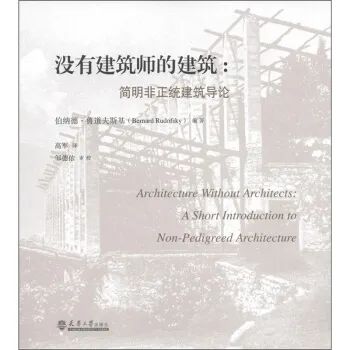 简介
Description
本书作者伯纳德·鲁道夫斯基冲破了统御我们建筑历史感知的狭隘学术苑囿,讨论了作为普遍存在的建筑艺术现象。通过排除那些会干扰我们考察完整建筑"全景"的地理与社会偏见,他向我们展现了一个迄今无人知晓、也无从发现的世界一瞥——可容纳十万观众的美洲史前剧院区域、供数百万人居住的地下城镇和乡村(囊括学校、办公场所和工厂加以完善),他将这些令人意想不到的奇观揭示在世人眼前。
The author of this book, Bernard Rudolfsky, broke through the narrow academic confines that dominate our architectural-historical perception and discussed the phenomenon of architectural art as a ubiquitous phenomenon. By excluding those geographical and social prejudices that would interfere with our investigation of the "panorama" of the complete building, he showed us a glimpse of a world that has not been known or discovered so far-the prehistoric theatre area of the Americas with a capacity of 100,000 spectators, and data The underground towns and villages (including schools, offices and factories to improve) where millions of people live, he revealed these unexpected wonders to the world.
推荐理由
Reason for Recommendation
这更像是一本来自Rodofsky的社会学观察,那些来自土地原生力量无名建造的天才们,他们比建筑师们更接近乌托邦式的幻想,更近乎永恒。还有另一本也同样值得翻阅,来自《部落之旅》原广司带着东大研究所的学生们到偏远地区的聚落游学采访。
This is more like a sociological observation from Rodofsky. Those geniuses who came from the original power of the land and built anonymously, are closer to utopian fantasy than architects and closer to eternity. There is another book that is also worth reading. Hiroshi Hara in "Tribal Journey" took students from the Dongda Research Institute to study and study in remote settlements.
03
生长与形态
达西·汤普森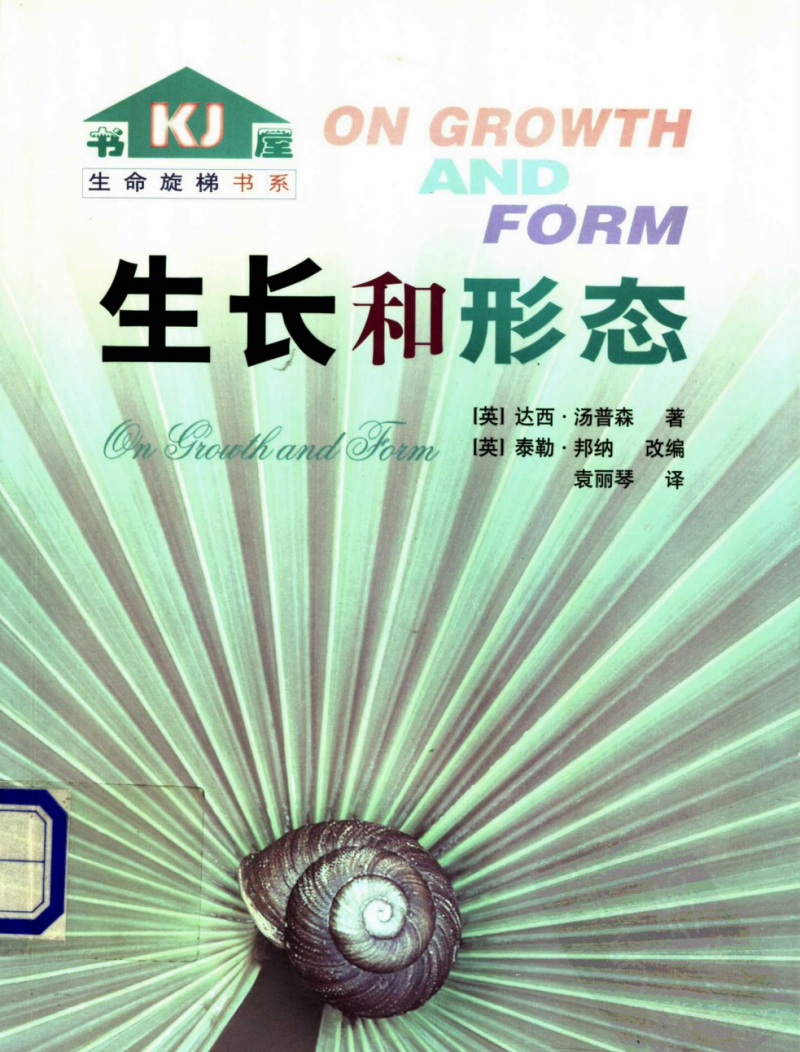 简介
Description
为什么生命和物理现象如此千姿百态?达西·汤普森的这本经典著作关注的正是事物生长的道路和采取的形态。首版于1917年的这本著作具有重大的历史意义,它从数学和物理学层面分析生命的进程,因为富有诗意的描述而著称。达西·汤普森的著述,被誉为"既是优美的文学又是高深的科学;既是科学论文,又是娓娓道来的散文",现在可以呈献给更广泛的读者,由当今最伟大的科普工作者作序,解释了本书对于新一代读者的重要价值。
Why are life and physical phenomena so diverse? Darcy Thompson's classic book focuses on the way things grow and the forms they take. This work, first published in 1917, has great historical significance. It analyzes the process of life from the mathematics and physics levels, and is famous for its poetic description. Darcy Thompson's writings, known as both "beautiful literature and advanced science; both scientific papers and eloquent prose", can now be presented to a wider range of readers. The preface by the worker explains the important value of this book to a new generation of readers.
推荐理由
Reason for Recommendation
万物的形态是偶然和必然的结合,一本启发了Frei Otto的书。
The form of everything is a combination of accident and necessity, a book that inspired Frei Otto.
04
肌肤之目
尤哈尼·帕拉斯玛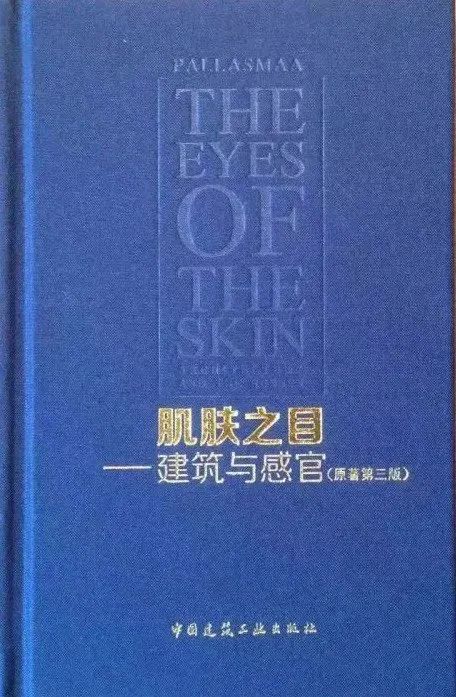 简介
Description
《肌肤之目》自1996年第一版问世,便成为经典的建筑理论著作。对每一位初次习读尤哈尼·帕拉斯玛经典文章的学生来说,本书是一种启示,它具说服力地为建筑文化提供全然崭新的见解。这些文字将帕拉斯玛的个人传记与建筑思考的概要相结合,后者包括其起源,与北欧及欧洲古今思想的关系。本书关注的重点是帕拉斯玛从根本上对待建筑人性、深刻、敏感的态度,并使读者了解他。
This book has become a classic architectural theory since its first edition came out in 1996. For every student who is studying the classics of Juhani Pallasmaa for the first time, this book is a kind of enlightenment. It provides completely new insight into architectural culture persuasively. These texts combine Pallasma's biography with a summary of architectural thinking, the latter including its origins, and its relationship with Northern European and European thinking in ancient and modern times. The focus of this book is Pallasma's fundamental, profound, and sensitive attitude towards architecture, and to make readers understand him.
推荐理由
Reason for Recommendation
一本小书,却字字珠玑。应该是所有建筑师们的枕边书籍,它能伴随我们建筑职业生涯的各个时段,触发我们对更本质问题的思考。
This is a tiny book, but every word is beautiful. It should be the pillow book for all architects. It can accompany us at various times of our architectural career and trigger our thinking on more essential issues.
05
到处存在的场所,到处不存在的我
村上龙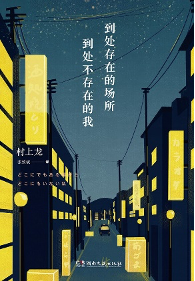 简介
Description
《到处存在的场所,到处不存在的我》是村上龙的最新短篇集。在这本书中,村上龙以居酒屋、公园、便利店等场所为背景,将过去回忆联系当下所处的环境,以及短暂片刻发生的事相重迭,并融合入一种"希望"。作者试图为各个出场人物刻划出他们所特有的希望。不是社会的希望。是别人所无法共同拥有,只属于个人的希望。
村上龙说:"要描写社会的绝望与颓废,如今已经非常简单。所有的场所都充满了绝望与颓废。在被现代化的强大力量推着向前进的时候,描写其中消极负面的部分,是文学的使命。对于现代化背后那些遭到歧视的人、被抛下的人、被压垮的人,或是抗拒现代化的人,日本文学一直以来都多有描写。但是在现代化告终许久之后的现代,已经不需要这样的手法以及这种主题的小说了。"
This book is Murakami's latest collection of short stories. In this book, Murakami uses izakayas, parks, convenience stores and other places as the background to overlap past memories with the current environment and short-term events, and merge them into a kind of "hope". The author tries to carve out their unique hope for each character. Not the hope of society. It is not shared by others, it is only a personal hope.
Murakami said: "To describe the despair and decadence of society is now very simple. All places are full of despair and decadence. When being pushed forward by the powerful forces of modernization, describing the negative part of it is literature. The mission of modernization. Japanese literature has always described the people who have been discriminated against, left behind, overwhelmed, or those who resist modernization. However, modernity, long after the end of modernization, has always been described in Japanese literature. There is no need for such techniques and novels with such themes."
推荐理由
Reason for Recommendation
在这个短篇集里,村上龙将KTV,便利店,公园,车站等有特殊功能的公共场所作为故事发生的地点,八个故事里的人物都居住在城市空间里,或多或少都承受着社会给予他们失落者的定义。"到处不存在的我"好似暗含着一种现代人的悲愁,在媒体社会中个人无限被放大和关注的同时也能感受到个人的渺小和迷茫。当代建筑师始终在表达和解决的是当代的问题,就像这本书的角色一样。
In this collection of short stories, Murakami uses public places with special functions such as KTV, convenience stores, parks, and stations as the place where the story takes place. The characters in the eight stories live in the urban space and bear more or less The society gave them the definition of the lost. "I don't exist everywhere" seems to imply a kind of sorrow of modern people. In the media society, the individual is infinitely magnified and paid attention to, but at the same time, one can feel the insignificance and confusion of the individual. Contemporary architects are always expressing and solving contemporary problems, just like the role of this book.
06
艺术中的精神

瓦西里·康定斯基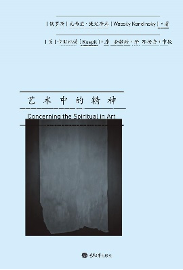 简介
Description
康定斯基于1912年写成的《艺术中的精神》一书,是现代艺术理论的经典文献之一。该书上部探讨艺术与社会文化、艺术与人类精神的关系,以及在现代社会中艺术精神面临的危机问题。下部阐述纯粹绘画的形式和精神问题,并勾勒出现代色彩构成和平面构成的基本设想。全书虽篇幅短小,但提纲挈领,内涵深刻,为现代抽象主义艺术和设计奠定了坚实的美学基础。
Based on the book "Concerning the Spiritual in Art" written by Kandinsky in 1912, it is one of the classic documents of modern art theory. The upper part of the book discusses the relationship between art and social culture, art and the human spirit, and the crisis that art spirit faces in modern society. The lower part explains the form and spiritual issues of pure painting and outlines the basic ideas of modern colour composition and plane composition. Although the length of the book is short, it has a strong outline and profound connotation, laying a solid aesthetic foundation for modern abstract art and design.
推荐理由
Reason for Recommendation
这是一本小书,读完它甚是简单,更像是艺术家们的一本行为准则。在19世纪末20世纪初,各个行业的创作者相互交流学习,模糊艺术形态的疆界,新的融合表达成为艺术家们的新的探索之路。时而翻阅,还是会被激励和启发。定是要去感知最直观和淳朴的事物才有突破了时空的作品。
This is a small book, it is very simple finishing it, more like a code of conduct for artists. At the end of the 19th century and the beginning of the 20th century, creators from various industries exchanged and learned from each other, blurring the boundaries of art forms, and new fusion expressions became a new path for artists to explore. If you read it from time to time, you will still be inspired and inspired. It must be to perceive the most intuitive and simple things to have works that breakthrough time and space.
07
小径分岔的花园
豪尔赫·路易斯·博尔赫斯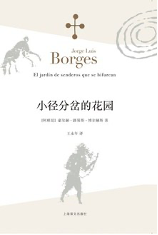 简介
Description
《小径分岔的花园》是阿根廷作家博尔赫斯创作的一部带有科幻色彩的小说,主人公是一个中国人。它讲述了一战期间在英国为德国当间谍的主人公余准在同伴被捕、自己被追杀的情况下,为了把重要情报告知德国上司,而不惜杀死汉学家艾伯特的经过。故事的讲述又以余准被捕后狱中供词的方式展开,且以欧洲战争史上的一个重大事件的推迟为切入点,引人入胜。
This book is a science fiction novel written by Argentine writer Borges. The protagonist is Chinese. It tells the story of the protagonist Yu Zhun, who was a spy for Germany in the UK during the First World War when his companion was arrested and he was hunted down. In order to inform the German boss of important information, he did not hesitate to kill Sinologist Albert. The story is told in the form of a confession in prison after Yu Zhun was arrested, and the entry point is the postponement of a major event in the history of European warfare, which is fascinating.
推荐理由
Reason for Recommendation
"Ma"-间,是建筑师们总乐意讨论的话题。我们将其分解为时间和空间去深究,在这部小说里,博尔赫斯给了我们关于时间和空间完全不同的观点。"时间永远分岔,通向无数的将来"时间不再是单一和绝对,而是不断分裂而产生出的无数并行。
"Ma" is a topic that architects are always willing to discuss. We decompose it into time and space to study. In this novel, Borges gives us a completely different perspective on time and space. "Time forever diverges, leading to countless futures" time is no longer single and absolute, but countless parallels produced by the continuous division.
08
神经漫游者
威廉·吉布森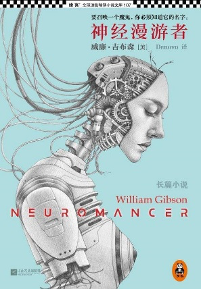 简介
Description
《神经漫游者》(Neuromancer)一书是第一本同时获得"雨果奖""星云奖"与"菲利普·K·迪克奖"三大科幻小说大奖的著作,此纪录至今无人能破。1984年完成的《神经漫游者》,最大的成就就是预示了20世纪90年代的电脑网络世界。威廉·吉布森不但在书里创造了"赛博空间"(cyberspace,也译网络空间),同时也引发了"赛博朋克"(cyberpunk)文化——用一种迷恋高科技的目光来观察世界,但是却轻视用常规的方法来使用高科技。这股浪潮从此日渐汹涌,大肆冲击主流文化。
"Neuromancer" is the first book to win the "Hugo Award", "Nebula Award" and "Philip K. Dick Award" three major science fiction awards at the same time. This record has not been broken so far. The greatest achievement of "Neuromancer" completed in 1984 was to foreshadow the computer network world in the 1990s. William Gibson not only created "cyberspace" in the book but also inspired a "cyberpunk" culture-observing the world with a fascination with high technology. But it despises the use of high technology in conventional methods. This wave has been surging day by day, and it has hit the mainstream culture vigorously.
推荐理由
Reason for Recommendation
应该是大家都会看的经典之作吧,还没有读过的那我们就强烈推荐一波。
It should be a classic work that everyone is supposed to read. If you haven't read it, we strongly recommend.