海、沙滩、海象、棕榈树、都是关于海岛的独特元素,为了凸显作品的地域性与多元性,皮娜将这些元素搬上舞台,为Masurca Fogo的展示更添一大亮点。围合的空间,铺满的沙砾,人工搭建的沙滩,通过投影将海滩展示在观众的面前,热情氛围的营造将观众吸引到这个充满幻想的南方城市里斯本,一个充满歌舞和欢乐的地方。

构造的空间,在投影的配合下展示出无限的可能,伴随音乐的跳动而变化着,仿若处于真实与虚拟之间。视觉的冲击、欢脱的舞步,爵士布鲁斯的音曲成为观众对里斯本的独家记忆。
The sea, beaches, walruses, palm trees are all unique elements about the island. In order to highlight the regionality and diversity of the works, Pina put these elements on the stage, adding a highlight to the display of Masurca Fogo. The enclosed space, covered with gravel, and artificially constructed beaches, the beach is shown in front of the audience through projection, and the atmosphere is created to attract the audience to the fantasy southern city of Lisbon, a place full of singing, dancing and joy.
The structured space, with the cooperation of projection, shows unlimited possibilities, changing with the beating of music, as if it is between the real and the virtual. The visual impact, the joyful dance steps, and the music of jazz blues became the audience's exclusive memory of Lisbon.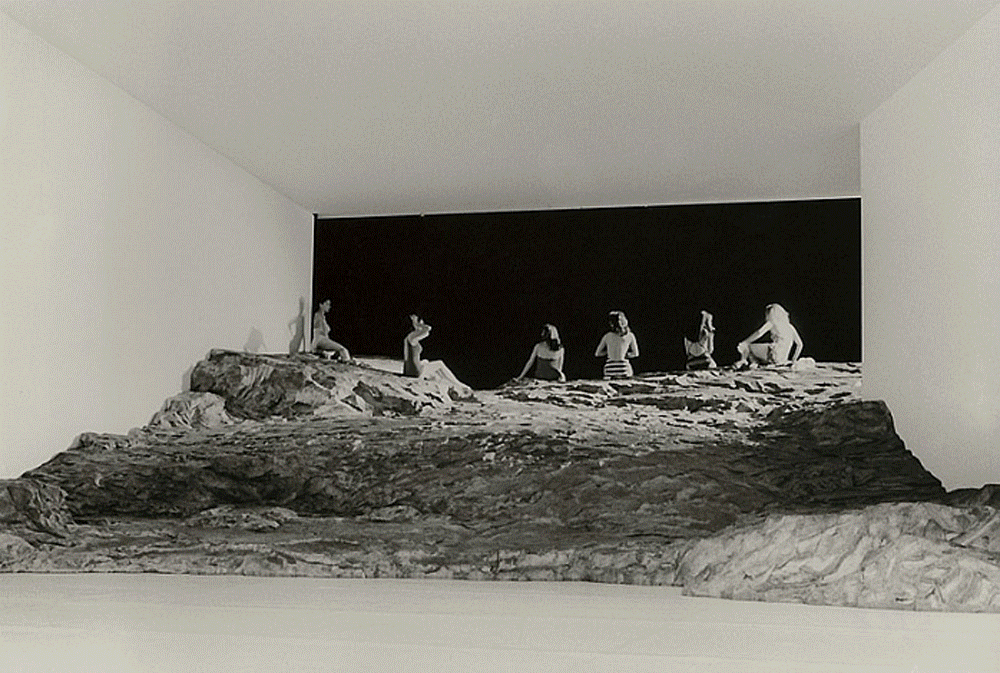 Masurca Fogo 剧照
独特的戏剧语言
Unique drama language
用性感和超现实主义呈现最佳的视觉效果,是皮娜在创作中考虑的首要要素,也是她特有的戏剧语言。坚持"为生活寻找一种语言"的目标,使皮娜的作品对情感有着特别的表达方式,以此来引发大家对生命哲理的探索之心。
穿着红色气球衣服的女人,站立在一群男性之中;一只活鸡在舞台中央啄食残留的西瓜碎片;将浴缸搬上舞台沐浴;让"海象"在舞台中舞蹈;在托举之上歌唱,这些意想不到的元素都被皮娜融入到戏剧的表达之中,形成专注于她的戏剧语言。大胆、前卫给人以视觉和想象力的冲击的同时,用诙谐幽默的肢体语言去暗示生命的真理。
Presenting the best visual effects with sexy and surrealism is the primary element that Pina considers in her creation and her unique dramatic language. Adhering to the goal of "finding a language for life", Pina's works are always full of emotions and arouse everyone's philosophy of exploring life.
A woman in a red balloon dress stands among a group of men; a live chicken pecks the remaining watermelon fragments in the center of the stage; moves the bathtub onto the stage to bathe, and lets the "walrus" dance on the stage and sing in the lift These unexpected elements were incorporated into the expression of drama by Pina, forming a dramatic language focused on her. While being bold and avant-garde give people a visual and imaginative impact, they use humorous body language to express the essence of life.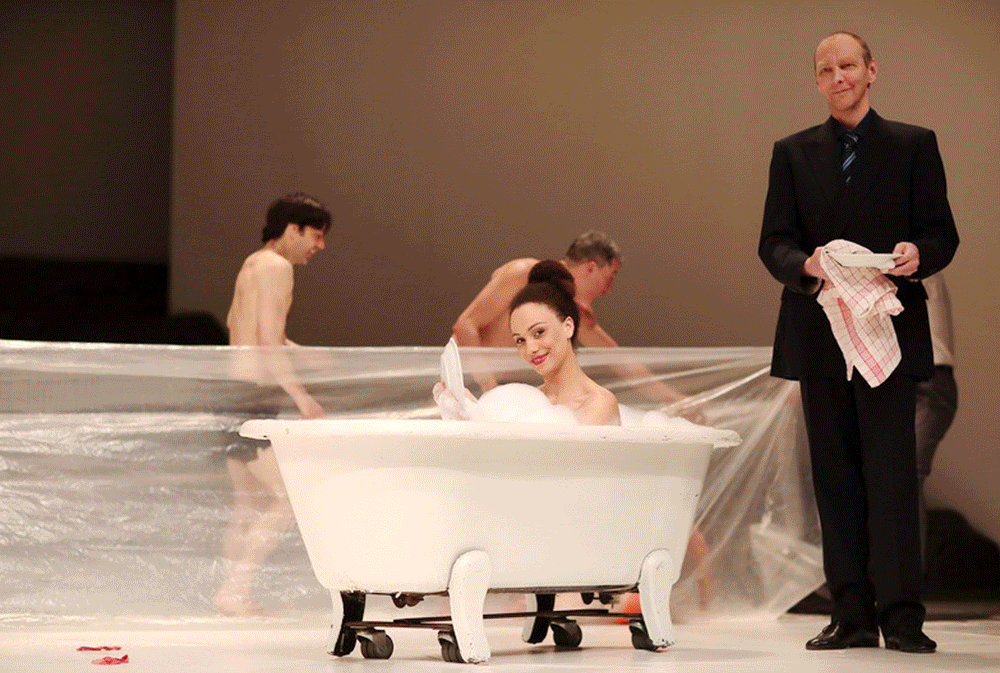 Masurca Fogo 剧照
导演和编舞 / Direction and Choreography:
皮娜 鲍什 Pina Bausch
布景设计 / Set design
Peter Pabst
戏服 / Costumes
Marion Cito
音乐 / Music
Amália Rodrigues
Nicolette
......
联合演出 /Collaboration:
Ruth Amarante,
Pau Aran Gimeno,
Emma Barrowman
......
首次展演 / First performance:
1998年4月4日 伍珀塔尔剧院
04. Apr 1998 Schauspielhaus Wuppertal
演出时长 / Duration:
2h 30min, one intermission
关于设计师
About the Designer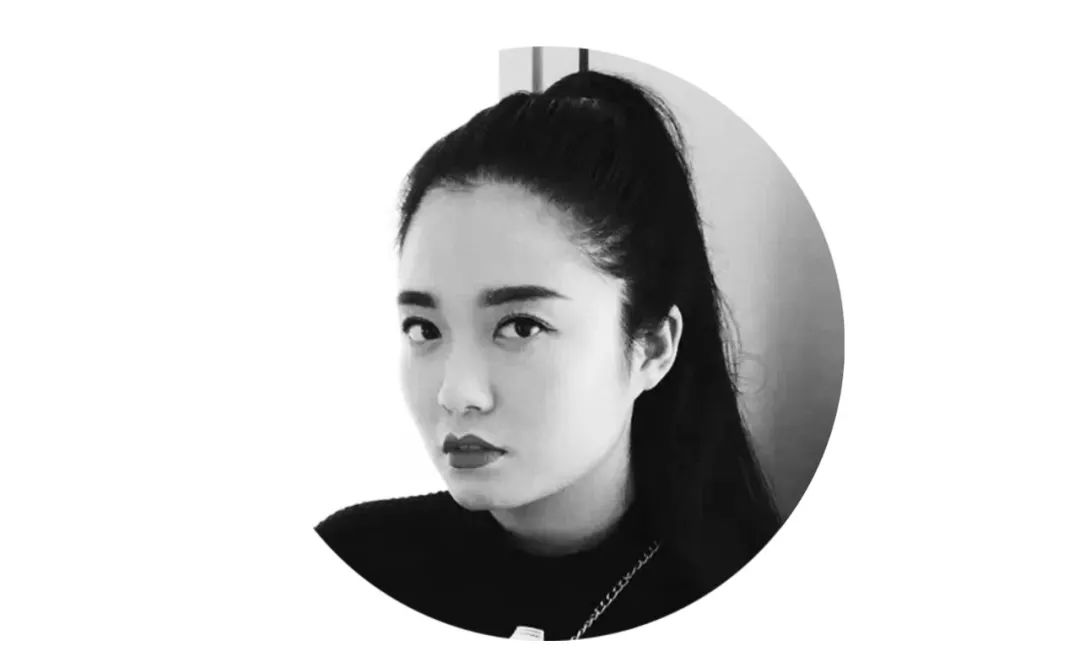 廖青
莫方 Eating Lab+Gallery+Theater 主理人
荷兰皇家艺术学院室内建筑专业
(Interior Architecture) 研究生
清华大学美术学院环境艺术设计系室内设计专业 本科